Our After School program was carefully designed with the interests of parents and children alike in mind. Upon arrival from their perspective elementary schools children are given an opportunity to release their energy on the playground and then provided with a deluxe snack and a brief time to socialize with one another. Once roll has been taken children begin working on their homework with the assistance of their teachers. When homework is complete the teachers check it and children are encouraged to do quiet activities throughout the room until homework time is over (usually 45 minutes).  After homework time the children are given the option of either free play or a teacher directed art or science activity. Some of the stations offered in the classroom include: a Wii game system, musical instruments, art and craft materials, a diverse library of books, building blocks/legos and a drama area.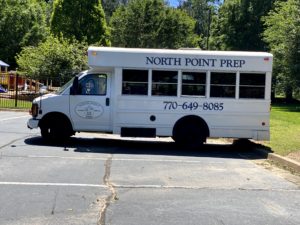 Care is provided for each of Fulton County Public School's holidays/closures that are not in conflict with our own closures (Holidays or GA Pre-K Conflicts). Care on these occasions is offered at an additional cost to currently enrolled children first.
In the past we have offered pickup from: Dolvin, River Eves, Northwood, Hillside, and Barnwell.  The schools we pick up from vary each year and are dependent on the needs from our current parents and the community.